Twenty days out from Ironman Switzerland. I signed up to this race in 2019. I can't believe it is so close now!
The past two years have been rocky. Injuries and illness have plagued me. I spent October to March injured and unable to run or cycle without causing pain. But since April things have been on an upward trend.
Watching time tick by and an event get closer whilst not being able to train for it is not good for the motivation. It seems like in this case, my body recovered before my mind.
I think over the last month and a half I have been able to train okay-ish and drag my body into shape. I may be a bit overweight and I haven't eaten perfectly. But, I am going to be okay.
Four weeks ago I flew out to Marbella to take part in the half ironman. It didn't go too well! I think the main reason is having swallowed a lot of water on the swim and not being able to eat. But I'm not willing to discard the fact that I could have still been out of shape!
Getting back from Marbella I knew I had seven weeks until Switzerland and I wasn't going to waste them. Lets look at how I did.
First week back involved resting and taking it easy.

The main issue was missing an open water swimming session. I don't live near a lake and it is hard to motivate myself to get to one. This is a recurring issue and I regret it coming into Switzerland. Next time though..!
Second week back was a big one.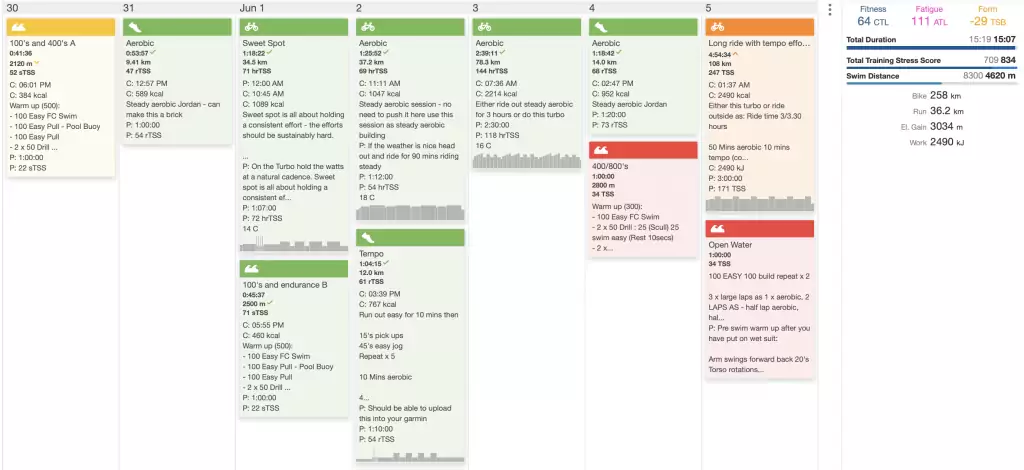 I had some time off that should have been used for a trip to San Francisco. I didn't go in then end and I was able to use some time off to get some serious training done. I also had a trip home and again.. didn't get my open water swim done. I did however spend 5 hours on the turbo.
Third week, almost epic!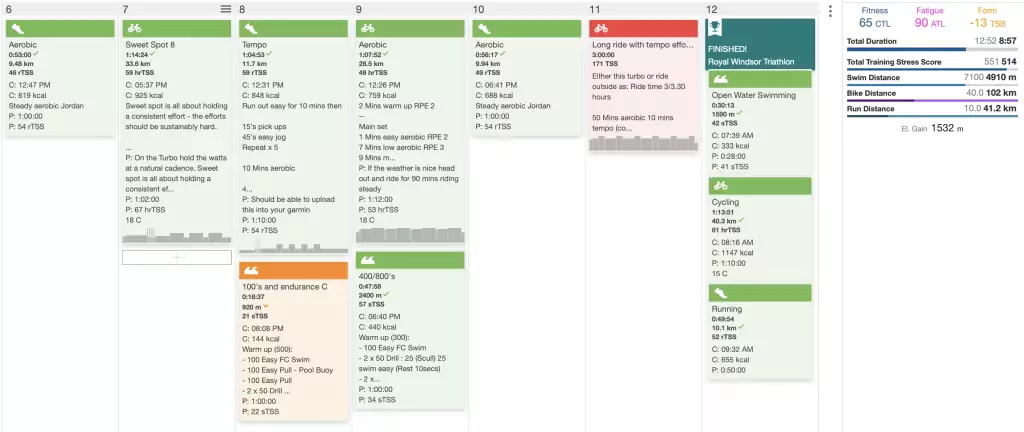 Had some wobbles on the water mid-week. But generally things looked good. I like my running had improved this week. I saw my heart rate drop lower than usual on my runs. Moving in the right direction.
Missed a three hour bike session the morning before Windsor Triathlon. Lazy.
Fourth week, epic.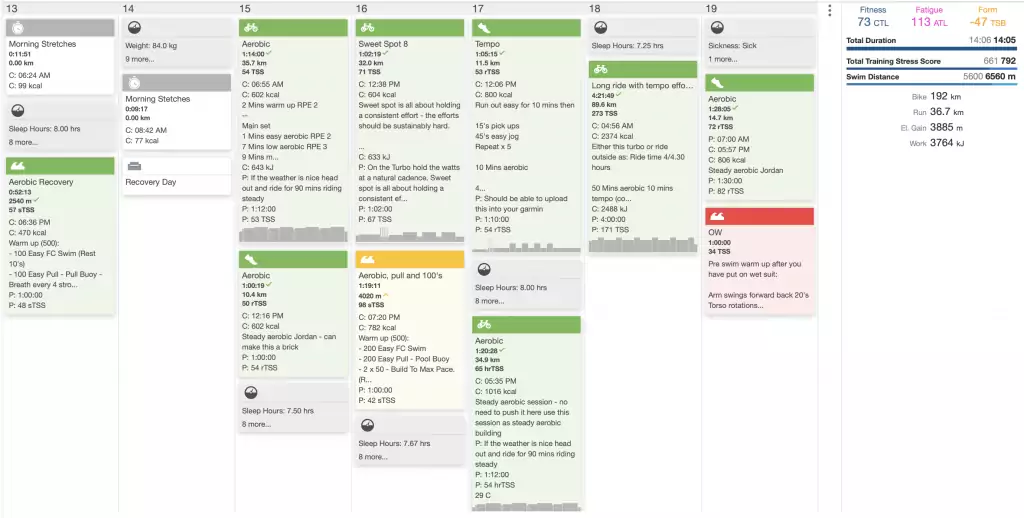 Biggest week of TSS I think I have ever done. I swam 4km for the first time ever in the pool (better late than never!). Lots of cycling on the turbo, which proved a challenge during a heatwave. Saturday I put in a 4 hour session with ~2,200m of climbing.
Sunday I woke up ill. I dragged myself off the sofa and around a 1h 30m run, but it wasn't great!
Fifth Week, needed rest but consistent work.

Feeling ill today! An absolutely dreaded feeling so close to an event. I've been plugging cough medicine and lemsip.
Can't wait to get stuck into this week though.
---